Toronto, Ontario, August 3, 2023 – The Greater Toronto Area (GTA) real estate market showed signs of more balance in July 2023 compared to the same period in 2022. Home sales, new listings, and home prices all experienced increases, but the pace of sales growth slowed down while new listings surged.
Home Sales and New Listings on the Rise
GTA REALTORS® reported 5,250 home sales through the Toronto Regional Real Estate Board's (TRREB) MLS® System in July 2023, marking a 7.8% increase compared to July 2022. This indicates that the real estate market remains active and demand for housing is relatively strong.
Simultaneously, new listings also saw growth, rising by 11.5% over the same period. The increase in new listings suggests that more properties have become available on the market, providing potential homebuyers with more options to choose from.
Home Prices Show Modest Gains
The MLS® Home Price Index (HPI) Composite benchmark, which tracks the overall price trends, rose by 1.3% year-over-year. While this indicates a positive trend, the rate of price growth is relatively modest, implying a more stable and balanced market.
Furthermore, the average selling price increased by 4.2% to $1,118,374 over the same time frame. The uptick in average selling price signifies that the GTA real estate market continues to be lucrative for sellers.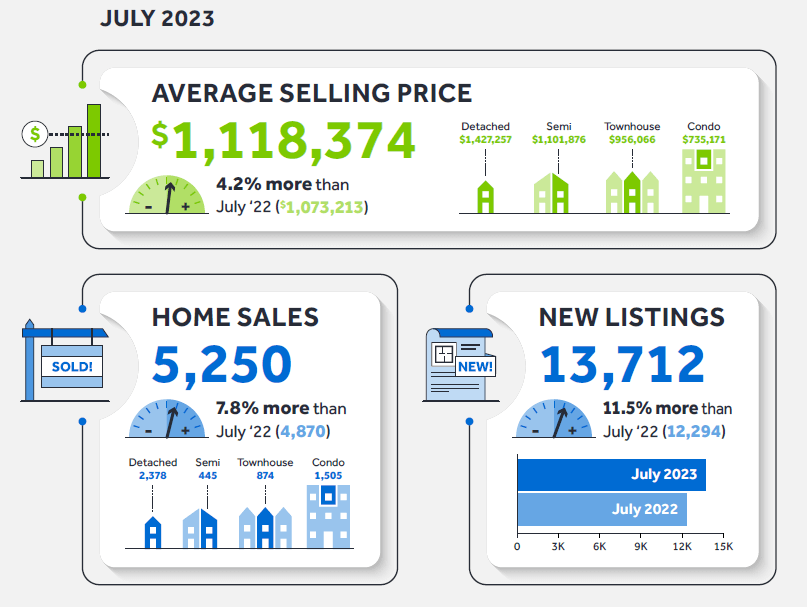 Market Balance and Seasonal Adjustments
In July, the market demonstrated more balance, with new listings outpacing the increase in home sales. This trend indicates that the GTA real estate market is moving towards equilibrium, offering a more level playing field for both buyers and sellers.
However, on a seasonally adjusted monthly basis, home sales trended lower for the second consecutive month. Simultaneously, new listings experienced an upward trend. This suggests that the market is experiencing some fluctuations due to external factors such as economic uncertainty and monetary policy.
Impact of Monetary Policy and Economic Uncertainty
According to TRREB Chief Market Analyst Jason Mercer, the uncertainty surrounding the direction of borrowing costs, jobs, and the overall economy has influenced home sales in recent months. The restart of the Bank of Canada's rate tightening cycle in June has likely impacted the momentum the market previously experienced during the spring.
Housing Policy and Population Growth
The GTA continues to experience record population growth, driven partly by the federal government's focus on increasing immigration levels. However, there is a disconnect between population growth and the availability of affordable housing.
TRREB CEO John DiMichele emphasizes the importance of aligning public policy with housing needs. Although population growth is crucial for economic development, it becomes unsustainable if there is a lack of affordable housing options. Addressing this issue requires collaboration between all levels of government to ensure adequate housing supply meets the growing demand.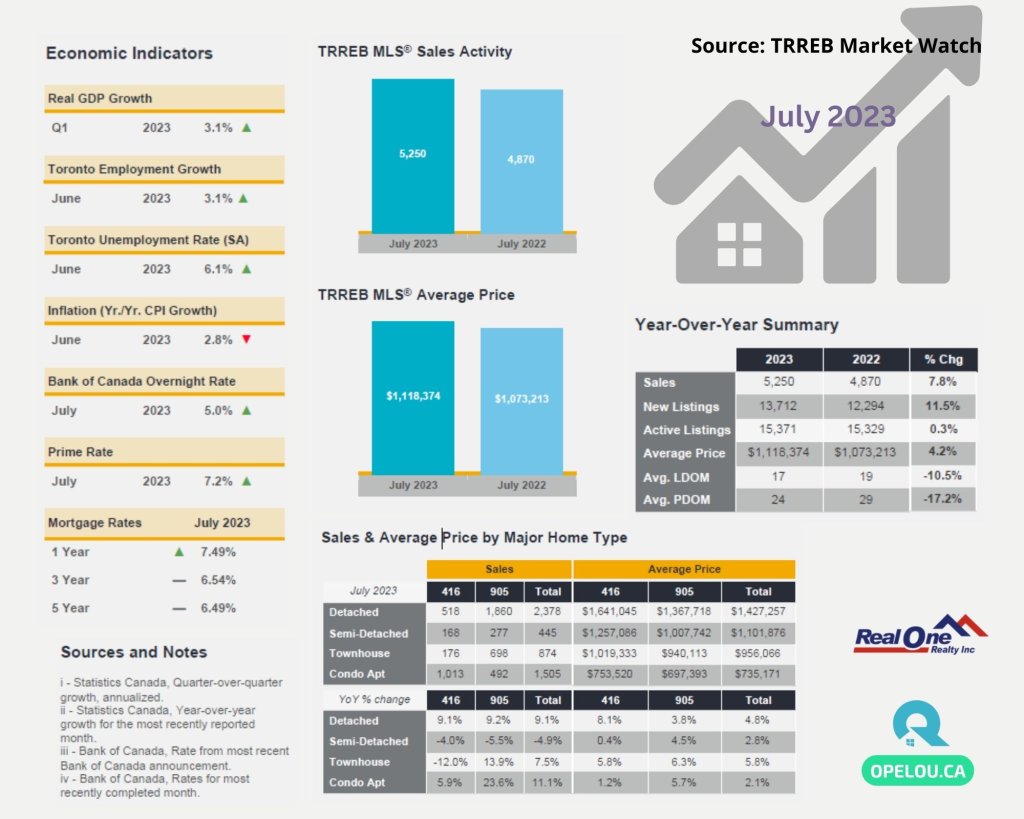 Summary
The July 2023 data from TRREB indicates that the GTA real estate market is moving towards a more balanced state, with increased sales and new listings. However, the market remains sensitive to factors like monetary policy and economic uncertainty, which may cause short-term fluctuations.
To sustain long-term growth and support the rising population, it is essential for policymakers to prioritize the development of affordable housing options. By addressing this issue collectively, the GTA can ensure a healthy and thriving real estate market that meets the needs of its residents.
Have feedback or questions? Please drop an email to Opel Ou, Real Estate Broker: opel@opelou.com
#GTARealEstate #HousingMarket #July2023 #RealEstateTrends #HomeSales #NewListings #MarketSnapshot #TRREB #TorontoHousing #GTAHomebuyers #HousingDemand #HousingPolicy #RealEstateNews #OpelOu #RealestateBroker #Realtor
July 2023 – Market Statistics – Quick Overview
Residential Statistics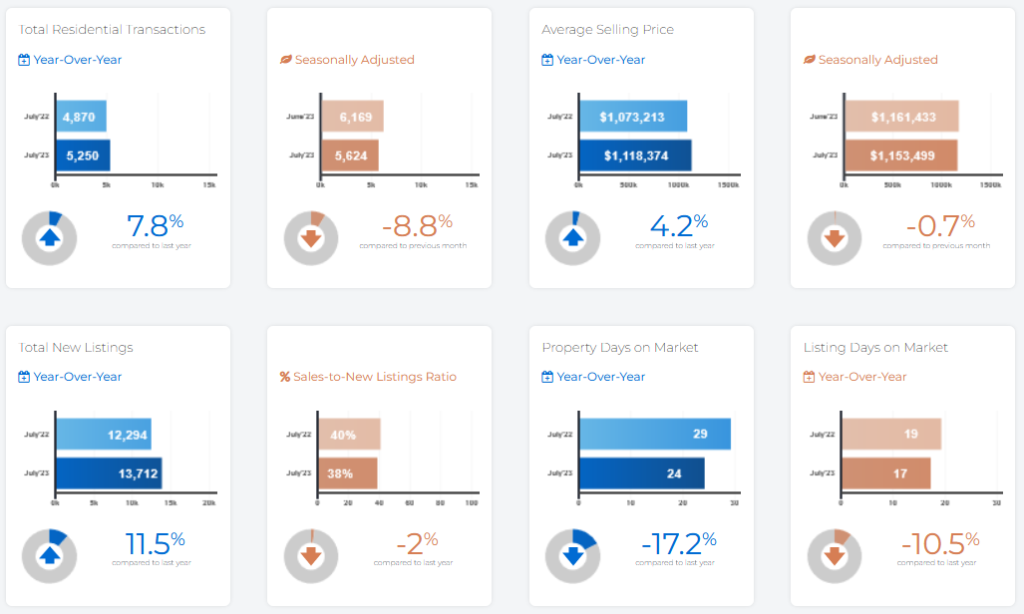 Commercial Statistics

Condominium Sales Statistics

Condominium Rental Statistics
* **In conjunction with TRREB's redistricting project, historical data may be subject to revision moving forward. This could temporarily impact per cent change comparisons to data from previous years**