The Canadian housing market has been a hot topic of discussion lately, with recent data indicating notable developments in housing starts and the Consumer Price Index (CPI). In June 2023, we witnessed a surge in housing projects' construction, along with changes in inflation rates. In this blog post, we'll delve into the key highlights of the data, analyze their potential implications, and provide a comprehensive outlook for the Canadian real estate industry. Sources: Statistic Canada & CMHC & TRREB
Key Highlights: Housing Starts and Inflation Shift
Housing Starts
In June 2023, the trend in housing starts showed a positive upswing, reaching 234,974 units, up from 229,520 units in May. Both Vancouver and Toronto census metropolitan areas (CMAs) recorded significant increases, with Vancouver experiencing a 71% rise and Toronto soaring by an impressive 100%. Together, these two major cities accounted for 47% of the total housing starts in Canadian urban centers. The Montréal CMA also showed growth, though less pronounced at 8%. All three CMAs recorded increases in both single-detached and multi-unit housing starts. Source: CMHC | SCHL
CPI – A key measure of inflation
The Consumer Price Index rose by 2.8% year over year in June 2023, a deceleration from the 3.4% increase seen in May. This slowdown was mainly due to a base-year effect in gasoline prices. Excluding gasoline, headline inflation would have been 4.0% in June. Canadians experienced elevated grocery prices (+9.1%) and mortgage interest costs (+30.1%), which were the primary drivers of the headline CPI increase.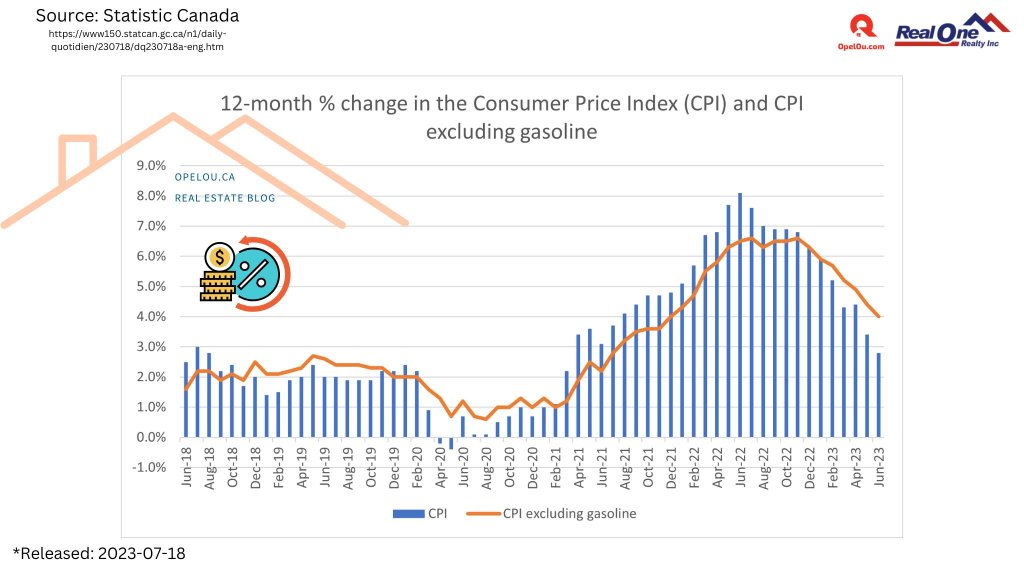 Analyzing the Implications of the shifts
Housing Starts: The surge in housing starts signals positive growth in the construction sector and reflects increased confidence in the housing market. Vancouver and Toronto's impressive numbers point to these cities' resilience as major real estate hubs. The rise in multi-unit starts signifies a shift towards denser urban living and addresses the growing demand for affordable housing.
CPI: The deceleration in inflation can be attributed to a base-year effect in gasoline prices. While this may provide some relief for consumers, the elevated grocery and mortgage costs are putting pressure on household budgets. These cost increases might deter some potential home buyers, impacting the overall housing demand.
Combined Impact: The simultaneous surge in housing starts and deceleration in inflation create a mixed landscape for the real estate industry. Increased housing supply may moderate property prices, making home ownership more accessible. However, affordability challenges posed by rising grocery and mortgage costs could dampen overall housing demand.
Outlook for the Canadian Housing Market
The Canadian housing market showed promising signs in June 2023, with a notable surge in housing starts, particularly in major urban centers like Vancouver and Toronto. However, the deceleration in inflation is accompanied by elevated grocery and mortgage costs, which may pose challenges to home buyers.
Looking ahead, it's essential for policymakers and industry stakeholders to closely monitor market trends and address affordability concerns. Striking a balance between housing supply and demand, along with measures to mitigate cost pressures, will be crucial to ensure sustainable growth in the Canadian real estate industry.
In conclusion, the June 2023 data provides valuable insights into the current state of the Canadian housing market. By understanding the implications of these trends, we can better navigate the challenges and opportunities that lie ahead. As we move forward, a collaborative effort is needed to foster a resilient and thriving real estate sector that caters to the diverse needs of Canadian home buyers and investors.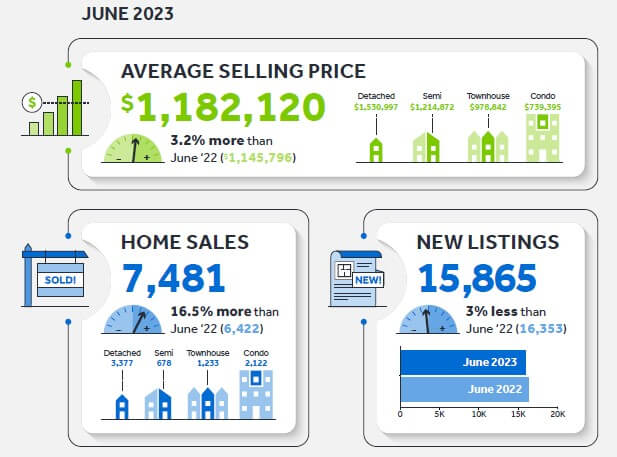 Have feedback or questions? Please drop an email to Opel Ou, Real Estate Broker: opel@opelou.com
#CanadianHousingMarket #HousingSurge #InflationShift #RealEstateInsights #Realestate #Inflation #MarketAnalysis #June2023Trends #Homebuyers #Investors #AffordableHousing #UrbanLiving #SustainableGrowth #EconomicIndicators #MarketOutlook #MarketTrends #HousingStarts #CPI #HousingIndustry #OpelOu #RealestateBroker #Realtor
June 2023 – Market Statistics – Quick Overview
Residential Statistics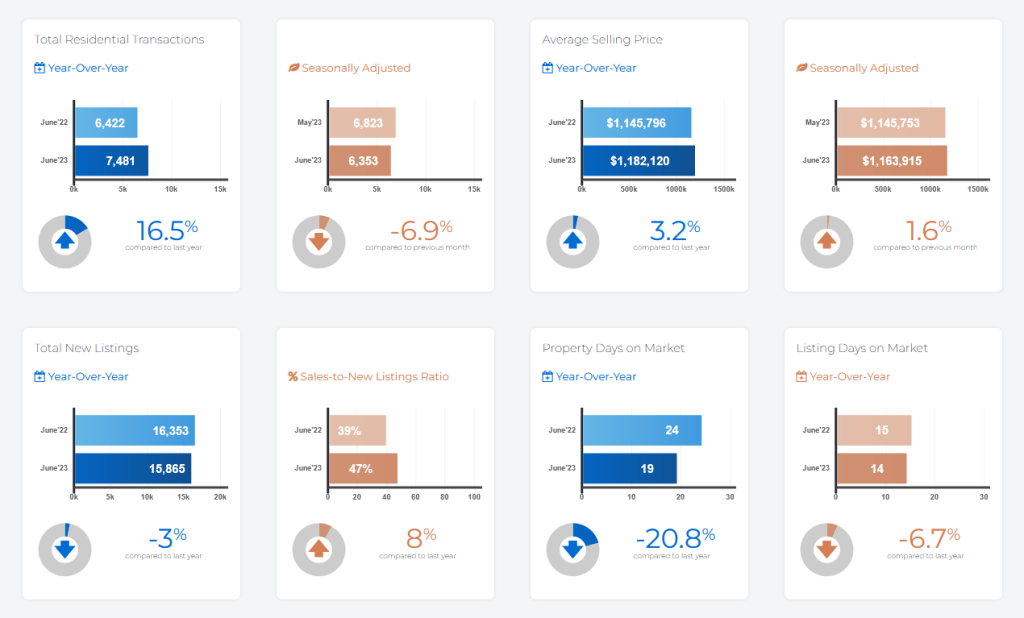 Commercial Statistics

Condominium Sales Statistics

Condominium Rental Statistics
* **In conjunction with TRREB's redistricting project, historical data may be subject to revision moving forward. This could temporarily impact per cent change comparisons to data from previous years**