The Toronto Regional Real Estate Board (TRREB) has released its latest report on the Greater Toronto Area (GTA) housing market. The report highlights the effects of high borrowing costs, inflation, and economic uncertainty on home sales in the GTA in September. Despite challenges, there is optimism for the future, driven by population growth and changing interest rate trends.
1. Current Market Challenges
* High Borrowing Costs
The GTA housing market has been grappling with high borrowing costs. This means that buyers are facing higher mortgage rates, making home ownership less affordable for many.
* Inflation and Economic Uncertainty
High inflation and economic uncertainty have added to the challenges. Buyers are cautious about making significant financial commitments in a volatile economic environment.
* Slower Economic Growth
The GTA has experienced slower economic growth, affecting consumer confidence and purchasing power.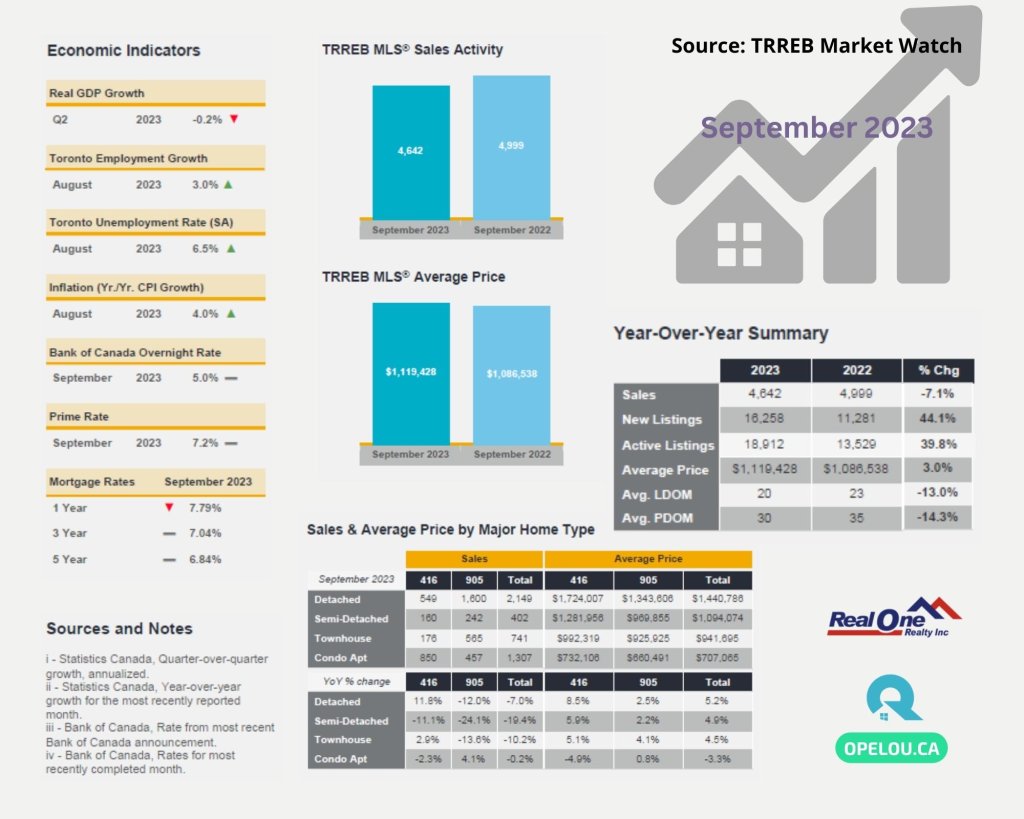 2. Short and Medium-Term Outlook
* Short-Term Outlook
In the short term, experts predict that borrowing costs will remain high until mid-2024. This may continue to impact home sales and affordability.
* Medium-Term Outlook
However, the medium-term outlook is more promising. As borrowing costs are expected to trend lower after mid-2024 and with the GTA's record population growth, there is optimism that demand for ownership housing will increase in the second half of the following year.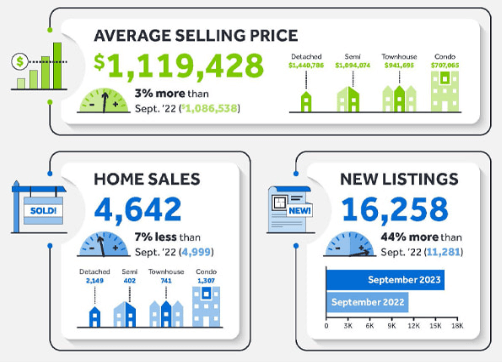 3. Market Performance in September 2023
In September 2023, TRREB reported 4,642 home sales through its MLS® System, representing a 7.1% decrease compared to September 2022. The decline in sales was particularly noticeable for ground-oriented homes, including semi-detached houses and townhouses. Month-over-month seasonally adjusted sales were also down slightly.
4. Increased Listings
New listings showed a significant increase compared to the extremely low levels in September 2022. Moreover, listings also trended upward on a month-over-month seasonally adjusted basis, indicating a growing supply of homes in the market.
5. Price Trends
The MLS® Home Price Index (HPI) Composite benchmark increased by 2.4% year-over-year. The average selling price also rose by three percent over the same period. However, on a month-over-month seasonally-adjusted basis, both the average selling price and the MLS® HPI Composite benchmark decreased by less than one percent.
6. Balanced Market Conditions
The GTA housing market experienced more balanced conditions in the summer and early fall, with listings noticeably increasing relative to sales. This suggests that some buyers may gain negotiating power in the short term, potentially offsetting the impact of high borrowing costs.
7. Challenges for First-Time Buyers
Half of intending home buyers in Toronto are first-time buyers, yet the average price of a condo apartment in the city exceeds $700,000. The threshold for the City's upfront land transfer tax exemption for first-time buyers has remained at $400,000 for fifteen years. TRREB applauds Toronto City Council's move to evaluate a more suitable exemption level and emphasizes the need for aligned policies and government collaboration to address the housing crisis.
In conclusion, while high interest rates have impacted the GTA housing market in the short term, there is optimism for the future driven by lower rate projections and the region's robust population growth. Balancing supply and demand and addressing affordability challenges will be crucial for sustaining a healthy housing market in the GTA.
8. Resilient GTA Rental Market in Q2 2023
In the second quarter of 2023, the GTA's rental market displayed resilience with robust activity, as detailed in TRREB's Q2 2023 Rental Market Report dated July 13, 2023. Despite an influx of available rental units, intense competition among renters propelled average rents upwards. TRREB President Paul Baron emphasized the pivotal role of rental housing in the GTA's evolving housing landscape, calling for swift action to address the housing supply shortage. The report reveals a 5.4 percent increase in condominium apartment rentals compared to Q2 2022, with the number of rental listings growing even more substantially at 15.4 percent. Rent prices surged, with one-bedroom condo apartment rents rising by 11.6 percent to $2,532 and two-bedroom rents climbing by 9.2 percent to $3,264. While the report welcomes the growth in condo rental listings as a potential factor to slow rent increases, it acknowledges the persistent rental housing deficit, emphasizing the need for more purpose-built rental units.
Have feedback or questions? Please drop an email to Opel Ou, Real Estate Broker: opel@opelou.com
#GTARealEstate #HousingMarket #GTAHousing #RealEstateTrends #TRREBReport #HomeSales #AffordableHousing #TorontoHomes #FirstTimeBuyers #PropertyMarket #EconomicOutlook #RealEstateBroker #RentalReport #Realtor #OpelOu
September 2023 – Market Statistics – Quick Overview
Source: https://trreb.ca/index.php/market-news/market-stats?utm_source=eblast&utm_medium=email&utm_campaign=MW-041023&utm_term=10/4/2023
Residential Statistics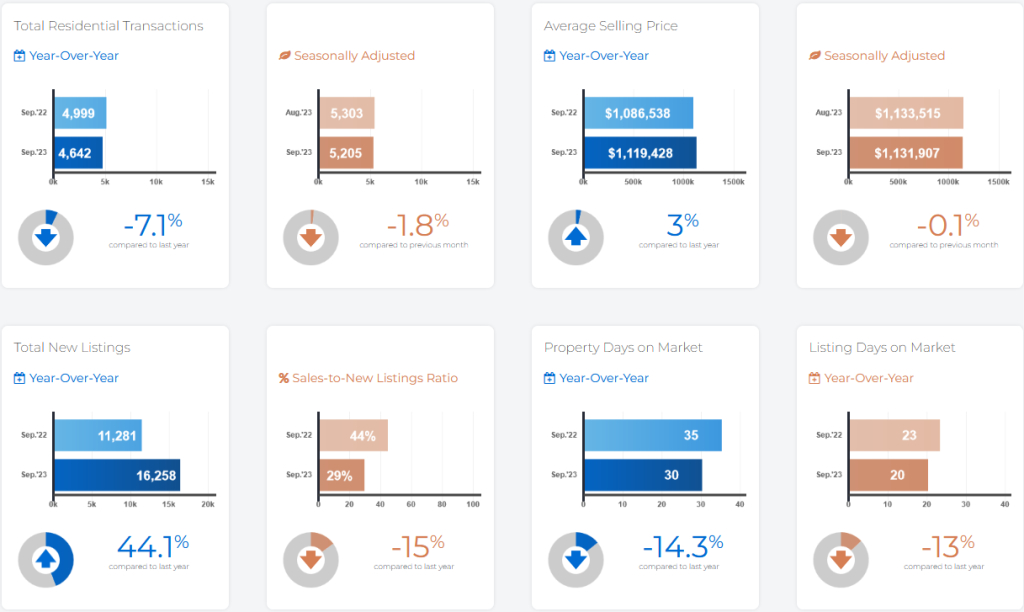 Commercial Statistics

Condominium Sales Statistics

Condominium Rental Statistics

* **In conjunction with TRREB's redistricting project, historical data may be subject to revision moving forward. This could temporarily impact per cent change comparisons to data from previous years**