In its latest move on Wednesday June 7, 2023, the Bank of Canada has increased its target for the overnight rate to 4.75%. This decision aims to address persistent inflation and restore price stability. The central bank also raised the Bank Rate to 5%, the deposit rate to 4.75% and the prime rate to 6.95%. Additionally, quantitative tightening measures are being implemented to normalize the bank's balance sheet. Let's explore the factors behind this decision and provide an overview of the current economic landscape in Canada and globally.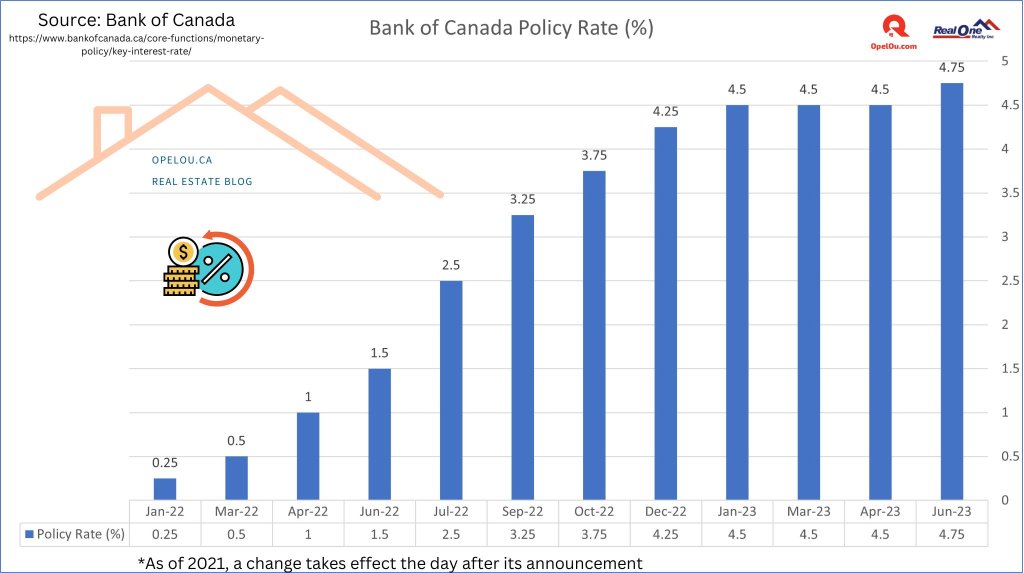 Global Economic Context
As global economic growth softens and interest rates rise, major central banks are signaling the need for further rate hikes to achieve price stability. Despite a slowdown, the United States has seen resilient consumer spending and a tight labor market. Europe's economy has stalled, but core prices continue to rise. China, after a strong first quarter, anticipates slower growth. Financial conditions have tightened, resembling the period before bank failures in the United States and Switzerland.
Strong Canadian Economy
Contrary to expectations, Canada's economy performed well in the first quarter of 2023, with a GDP growth rate of 3.1%. Consumption growth remained robust, supported by a broad range of factors. Services saw increased demand, and spending on interest-sensitive goods rose. Additionally, the housing market experienced a pickup in activity. The labor market remained tight, with increased immigration and participation rates expanding the workforce. However, strong demand led to swift hiring of new workers. Overall, the Canadian economy displayed more persistent excess demand than anticipated.
Inflation Concerns and Recent Developments
In April, Canada's Consumer Price Index (CPI) inflation rose to 4.4%, the first increase in ten months. Prices for goods and services exceeded expectations. Despite lower energy costs, goods price inflation increased, while services price inflation remained elevated due to strong demand and a tight labor market. The Bank of Canada expects CPI inflation to gradually ease to around 3% in the summer as energy prices decrease and the impact of last year's price increases diminishes. However, concerns have arisen about CPI inflation remaining persistently above the 2% target, given sustained excess demand and three-month core inflation ranging between 3.5% and 4%.
Monetary Policy Decision and Future Outlook
Based on careful evaluation of economic indicators, the Governing Council of the Bank of Canada concluded that the previous level of monetary policy restrictiveness was insufficient to re-balance supply and demand and achieve sustainable inflation within the 2% target. This led to the decision to raise the policy interest rate. The central bank emphasized the importance of quantitative tightening as a complement to the restrictive monetary policy stance and as a means to normalize the bank's balance sheet.
Looking ahead, the Governing Council will closely monitor core inflation dynamics, CPI inflation outlook, inflation expectations, wage growth, and corporate pricing behavior. These factors will guide future monetary policy decisions. The Bank of Canada remains committed to restoring price stability for the benefit of Canadians.
Summary
The Bank of Canada's recent decision to raise interest rates reflects its determination to address persistent inflation and restore price stability. With a stronger-than-expected economy and concerns about elevated inflation levels, the central bank is taking action to rebalance supply and demand. Through a combination of interest rate increases and quantitative tightening, the Bank aims to normalize monetary policy and its balance sheet. Ongoing assessment of core inflation dynamics and economic indicators will guide future policy decisions. The Bank of Canada is unwavering in its commitment to achieving the inflation target and fostering a stable economic environment.
The Bank of Canada has set the next scheduled date for announcing the overnight rate target as July 12, 2023. On that day, they will also release the Monetary Policy Report, which provides a comprehensive outlook on the economy, inflation, and potential risks. Keep an eye out for these important updates from the Bank.
Reach Opel Ou, Real Estate Broker for a conversation on this topic!
Source: Bank of Canada (Click to read original press release)
#BankOfCanada #InterestRates #Economy #Inflation #LaborMarket #Mortgages #BorrowingCosts #FinancialNews #CanadaFinance #CentralBank #MonetaryPolicy