Real Estate Sales(number of transactions) in the Greater Toronto Area Drop in February 2023
The Toronto Regional Real Estate Board (TRREB) has released its monthly report for February 2023, and the results show a substantial drop in sales in the Greater Toronto Area (GTA) from pre-rate hike levels of early 2022. This decline in sales was accompanied by a drop in the number of new listings, resulting in a leveling off of the average selling price and MLS® HPI(Home Price Index).
Sales and Listings
According to TRREB President Paul Baron, home prices have dropped over the last year from the record peak in February 2022, mitigating the impact of higher borrowing costs. Additionally, many home buyers have opted to purchase lower-priced homes to offset these higher costs. As a result, the share of home purchases below one million dollars has increased substantially compared to this time last year.
In February 2023, Greater Toronto Area REALTORS® reported 4,783 sales through TRREB's MLS® System, a 47% drop from February 2022, the last full month before the onset of interest rate hikes. The number of new listings entered into the system was down by a similar annual rate of 40.9% to 8,367.
Price Trends
TRREB Chief Market Analyst Jason Mercer notes that new listings continued to drop year-over-year in the GTA. However, recently released Ipsos polling suggests that buying intentions have picked up for 2023. This increased demand may run up against a constrained supply of listings, leading to increased competition between buyers and eventually renewed price growth in many segments of the market, especially those catering to first-time buyers facing increased rental costs.
The average selling price for February 2023 was $1,095,617, a 17.9% drop compared to February 2022. However, the share of sales below $1,000,000 was 57% in February 2023 versus only 38% a year earlier, contributing to the decline in the average selling price. On a monthly basis, the average price followed the regular seasonal trend, increasing relative to January 2023. The MLS® Home Price Index (HPI) Composite Benchmark was down year-over-year by a similar annual rate of 17.7%, but was also up on a monthly basis.
Housing Supply
TRREB Chief Executive Officer John DiMichele emphasizes that housing supply will be a crucial topic in the upcoming June mayoral by-election in Toronto. New and innovative solutions, such as the City of Toronto's initiative to allow duplexes, triplexes, and fourplexes in all neighborhoods citywide, will be necessary to achieve an adequate and diverse housing supply that can support record population growth in the years to come.
Looking Forward
In conclusion, February sales in the GTA were down significantly from pre-rate hike levels, but an increase in buying intentions and a constrained supply of listings may lead to renewed price growth in many segments of the market. New and innovative solutions will be necessary to address housing supply in the upcoming mayoral by-election in Toronto. As the real estate market continues to evolve, it will be important to keep an eye on these trends and adjust strategies accordingly.
February 2023 – Market Statistics – Quick Overview
Residential Statistics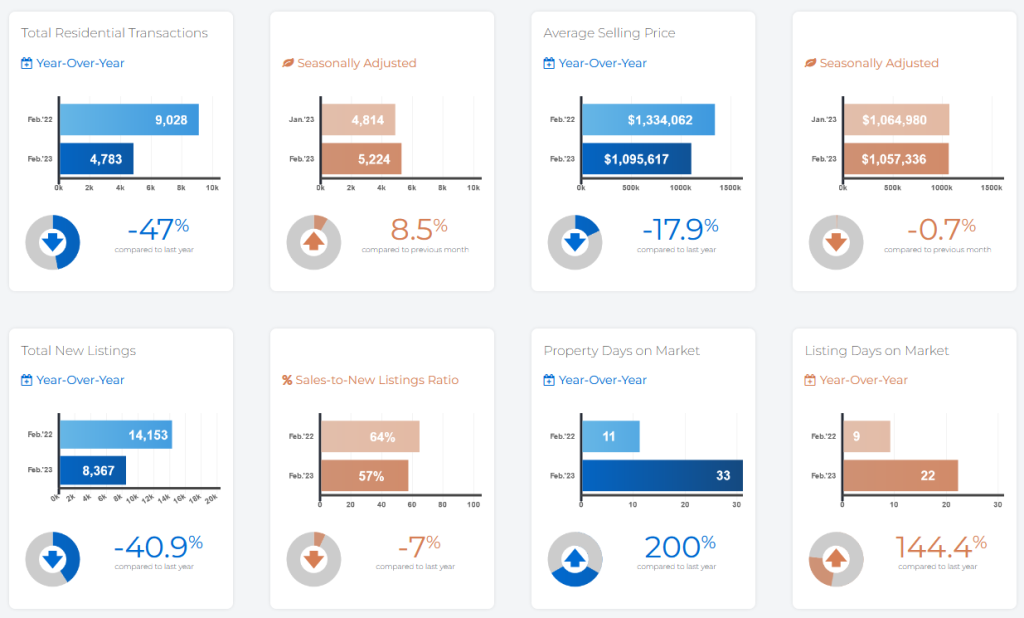 Commercial Statistics

Condominium Sales Statistics

Condominium Rental Statistics

* **In conjunction with TRREB's redistricting project, historical data may be subject to revision moving forward. This could temporarily impact per cent change comparisons to data from previous years**